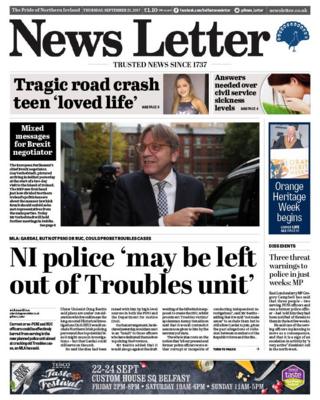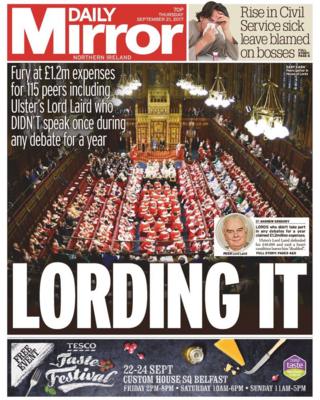 "Lording it" is the splash in the Daily Mirror's Northern Ireland edition, its front-page story revealing that members of the House of Lords who did not actually make any speeches claimed more than £1.2m in expenses last year.
Among those in the spotlight is Northern Ireland peer Lord Laird.
He claimed almost £50,000 in expenses despite only voting twice and not speaking in 2016-17.
The former UUP peer said he is considered disabled due to a heart condition that often leaves him unable to get to the chamber in time to vote.
Lord Laird was criticised in 2003 when, as chairman of the Ulster-Scots Agency, he spent hundreds of pounds taking taxis to Dublin and Londonderry.
He linked his taxi use to his practice of wearing a kilt to official functions – which he said drew attention and was therefore a security issue.
"Killer Howell's former home on Airbnb" is the front-page headline in the Belfast Telegraph.
The paper reveals that the house where dentist Colin Howell confessed to murdering his wife and his lover's husband is now operating as a bed-and-breakfast guest house.
Howell did not live in the house until long after the murders, but it was here he was arrested in 2009.
The house is being advertised on the Airbnb website for £200 a night.
'Under siege'
As university students return to their studies, and some to less productive night-time activities, the Belfast Telegraph reports "mayhem" in the student-dominated Holylands area of south Belfast.
Three arrests have been carried out in the area in the run-up to the new university term, with 68 incidents reported to Belfast City Council, according to the paper.
The chairwoman of a local residents association told the Telegraph they feel "under siege".
The Telegraph carries a full-page opinion piece from former UUP leader Mike Nesbitt in which he challenges republicans to address human rights abuses carried out by the IRA.
He argues that any future political process for dealing with the past and the legacy of the Troubles in Northern Ireland must deal with terrorist groups.
He writes that the current situation places a "spotlight exclusively on the British state and its agents".
The News Letter carries comments from Ulster Unionist MLA Doug Beattie voicing fears that current or ex-PSNI and RUC officers "could be effectively barred from serving in the new planned police unit aimed at cracking old Troubles cases".
Mr Beattie said plans under consideration would rule out PSNI/RUC personnel due to potential bias, but would allow former members of An Garda Síochána (Irish police) to serve in the unit.
Mr Beattie said the plans had been raised with him by a "high-level" source in the Department of Justice and in the PSNI.
'Clumsy'
The News Letter's page two lead covers a community group's controversial Facebook post over a new housing scheme in Dunmurray, County Antrim.
Seymour Hill & Conway Resident Association and Youth Council posted a message encouraging local people in the area to apply for a house at the Dunmurray High School site.
It included the line: "Get yourself on the list and let's get these houses filled up with people from loyalist/unionist community".
The post encouraged those interested to contact DUP councillor Jonathan Craig: Alliance MLA Trevor Lunn said this raised a number of questions for Mr Craig.
Mr Craig said the group's original post was "clumsy" and accused Alliance of "playing politics with a local community group".
Seymour Hill & Conway Resident Association has since apologised for the post.
Learning to fly
Writing in the Irish News, columnist Newton Emerson writes that unionist fears about an Irish language act are "entirely warranted".
Disagreement over official status for the language has emerged as the key sticking point preventing the return of power-sharing in Northern Ireland.
He says that the linguistic situation in Belgium is more similar to that in Northern Ireland, dismissing campaigners' comparisons to Scotland and Wales, both of which have Celtic language legislation.
On the opposite page of the Irish News' opinion pages, and perhaps on the other side of the fence, is the paper's own Alison Morris.
She voices her view that mandatory coalition in the Stormont Assembly "has had its day", and calls for DUP leader Arlene Foster and Sinn Féin's Stormont leader Michelle O'Neill to admit that.
"If we are to have real lasting political peace and respect we need a government of people who want to want together, not one where they are forced to," she concludes.