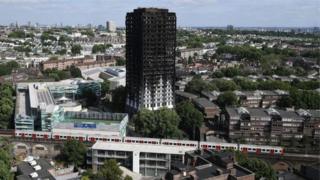 Scotland's Fire Brigade Union has raised concerns that the fire service and residents were not told combustible cladding had been found in Glasgow.
It has emerged that the Glasgow City Council informed government ministers on 8 September that 57 privately-owned buildings were affected.
The union questioned why the priority had not been to tell the fire service.
The council later stressed there was no suggestion of a particular fire risk, and that residents would be informed.
Denise Christie, of the Fire Brigades Union, told BBC Radio's Good Morning Scotland programme: "It's quite concerning that this information was known two weeks ago and the fire service have not been informed – they need to know where the risks are within their local areas.
"The Fire Brigades Union are concerned that Glasgow City Council knew about it, but their priority wasn't to inform the residents or the Scottish Fire and Rescue Service."
MSPs and ministers have been conducting inquiries into fire safety and building and planning standards in Scotland in the aftermath of the Grenfell fire, which killed an estimated 80 people.